Treat Insomnia Without Side Effects?
When you find it hard to sleep and it begins to impact your life, you might try almost anything to seek relief from your problem. One of the most beneficial and interesting ways to treat insomnia is to try out a very old, proven alternative treatment. One really good ancient alternative insomnia treatment is acupuncture.
Acupuncture might seem an "odd" choice of treatment for sleeplessness to many people, but the fact is a lot of societies and cultures have used acupuncture treatment for insomnia for thousands of years. This old Chinese form of treatment has also been successfully used to treat a wide range of conditions such as pain, addiction, depression, stress and anxiety among others.
To understand how acupuncture can help with insomnia, it is important to determine the underlying causes of insomnia. When these causes are known, the right type of acupuncture treatment can be utilized by your acupuncturist to successfully cure your condition.
Some of the underlying causes of insomnia are:
Pain – This factor is a very big reason why so many people develop insomnia. If pain is the reason, acupuncture treatment for insomnia can definitely help since pain alleviation is one of the main reasons why people use acupuncture. When acupuncture helps control or lessens your pain and you are able to sleep soundly, it has done its job. For chronic pain, long-term treatments may be needed.
Addiction – Caffeine abuse or addiction is a good reason to get acupuncture treatment. Acupuncture can be very effective in reducing addiction cravings, and while caffeine might seem like a minor addiction compared to nicotine, alcohol or drug addiction, it can still make it difficult for you to fall asleep.
Anxiety and Stress – If the mind is unable to turn itself off at night, it may be very difficult to fall asleep. By addressing a person's anxiety and stress, acupuncture therapy for insomnia cures the root reason for their inability to fall asleep. Acupuncture treatment for insomnia should always be followed by advice for coping with anxiety and stress for an effective holistic treatment. In fact, if an effective alternative treatment plan to handle anxiety and stress is adopted, several sessions of acupuncture treatment for insomnia may not be needed.
A life with insomnia is not considered real living by a lot of those suffering from it. Most types of conventional treatments may come with serious side effects, as opposed to acupuncture which assists the body in healing itself – and it can be especially effective when it is combined with other modalities to treat the root problems.
Usually, acupuncture treatment for insomnia might entail several sessions of therapy, particularly if stress reduction or pain management is also required. Following through can prove a big help for a lot of people. Acupuncture for insomnia has helped people for thousands of years and it can certainly help you too.
Want to Sleep Better at Night Without Taking Dangerous Sleep Medications? — Try Acupuncture Today!
I'd like to offer you a coupon for a FREE Initial Exam ($85 value.) This coupon is good for one initial exam and limited to one coupon per person.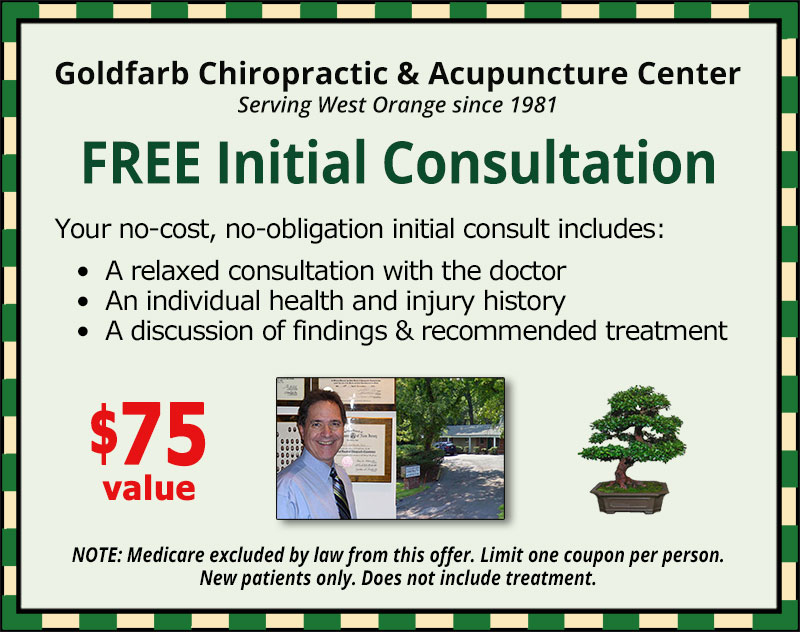 Your no-cost, no-obligation initial exam includes:
A relaxed consultation with the acupuncturist

An individual health and injury history

Extensive exams of pulses and the appearance of the tongue, eyes

A discussion of findings and recommended treatments
If you have any questions send me an e-mail or call us at 973-325-8884.
We'll be happy to answer your questions and discuss your concerns.