"How Acupuncture Can be a Powerful Tool in Regaining Your Emotional Health Without Side Effects and Dependence on Anti-Anxiety Medication."
Are you stressed out? Feeling anxious for no reason? Has your anxiety become so pronounced that your heart begins to palpitate and you're not quite sure what is happening to you? You may be suffering from panic attacks, a very real disease that if not under control can leave you in a constant state of stress.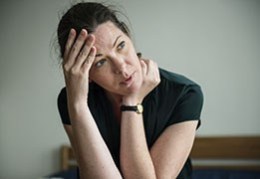 There are many prescription medications on the market that are prescribed to deal with anxiety and panic attacks. Benzodiazepines, a class of anti- anxiety medications, are often used when a patient is not able to sleep or feels out of control. When taken, it produces a sedative effect, allowing the patient to sleep or calm down. Such medications include Valium, Xanax, and Ativan. They work by depressing the central nervous system, but the side effects can include severe drowsiness and lethargy. These medications do not promote a sense of well-being so when the sedative effects wear off, the anxiety tends to start all over again, causing a need for further medication. This is a downward spiral that leads to addiction, or dependence on anti-anxiety medication.
Acupuncture, a natural, non-addictive alternative to prescription medications, is used to treat anxiety and panic attacks with marked success. Acupuncture is an eastern medicine that originated from China, but is now widely practiced in the United States by licensed acupuncturists.
A report on the efficacy of acupuncture in the treatment of anxiety and panic attacks was filed in June 2007 by the University of Westminster in London, England. After searching through 12 studies, they found on the treatment of anxiety through acupuncture, that "there are positive findings for acupuncture in the treatment of generalized anxiety disorder and that these findings indicate that further research is warranted".
Anxiety and panic attacks can be debilitating to the sufferer. Yet, acupuncture can reduce the severity of symptoms almost immediately. Sterile, tiny, surgical steel needles are inserted into points in the body which significantly calm the nervous system and quiet the mind. The needles are virtually painless as they are extremely thin, comparable in width to a cat's whisker. Patients have reported less intense feelings of anxiety or panic after only one session, and after 2-3 more sessions reduced to a minimum altogether. It is important to remember that acupuncture works to restore the balance within the body and works on any variety of illnesses or diseases.
Acupuncture has become more popular in the United States as more people search for natural, safe ways to combat sickness and disease. Prescription medications can be costly and as we often learn after a medication has been on the market for some time, prescription medications can have dangerous side effects. There are no known significant side effects to acupuncture treatment when used to treat anxiety. In fact, it can be a very helpful tool in regaining your emotional health and wellbeing.
Do not stop taking prescribed medications without consulting your doctor first, but it is safe to try acupuncture as a complimentary treatment to go along with your medication. You may find that after a few treatments you are feeling better and you are less dependent on as-needed anxiety prescriptions.
Thank You For Visiting My Website
I want to thank you for visiting my website, and in return I would like to offer you a coupon for a FREE Initial Exam ($85 value.) This coupon is good for one Initial TCM Exam and Consultation, and limited to one coupon per person. If you, your friends, relatives or colleagues are ever in need of my services, please click on the coupon to download it and bring it with you on your first visit.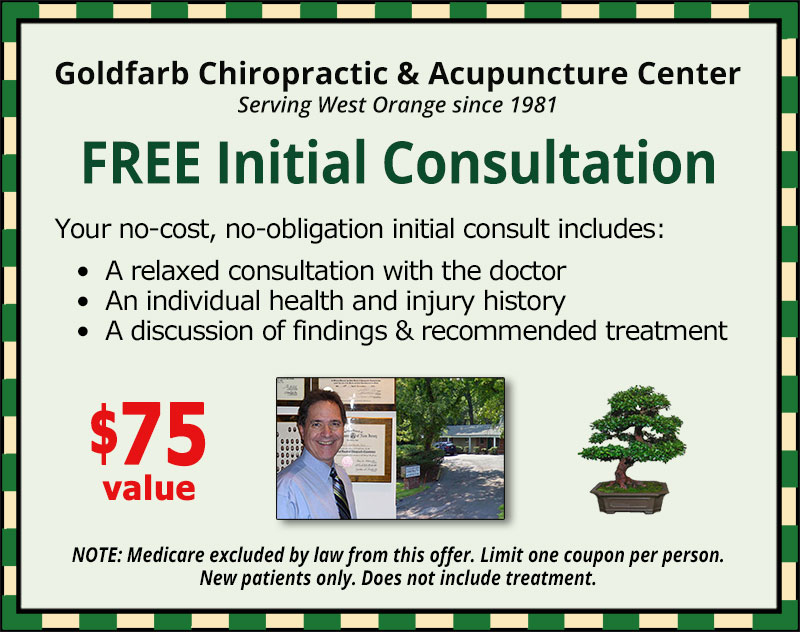 Your no-cost, no-obligation initial exam includes:
A relaxed consultation with me

An individual health and injury history

A TCM exam (palp, tongue, eyes & pulse diagnosis)

A discussion of findings and recommended treatment
If you have any questions send me an e-mail or call me at 973-325-8884.
I'll be happy to answer your questions and discuss your concerns.
Sincerely,
Steven Goldfarb
Board Certified and Licensed West Orange Acupuncturist
"Acupuncture treatments are natural, safe, effective and drug-free. My goal is to activate the natural, self-healing abilities of your body to bring balance and prevent future illness and disease."
~ Steven Goldfarb